Download EcoVolt CeP Brochure
Energy Efficient Product
EcoVolt CeP patent pending fabricated panels are designed to integrate seamlessly in to plasterboard system construction. Designed for high performance buildings like a passive house or nZEB building.
Mounted on metal or wood partitions, the CeP panel is installed like industry standard plasterboards. Once installed, 24V electrical connections can be made by using the CeP foil gripper system. A paper tape and joint or 4mm skimcoat finish is then applied before it is sealed and the final layer of water based decorative paint of any colour is applied.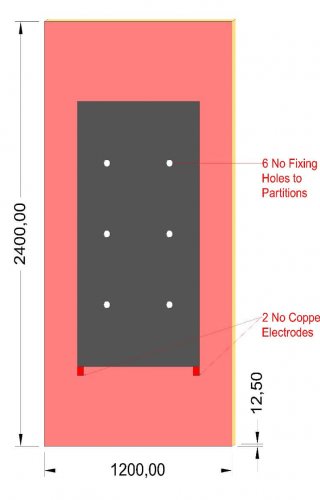 Pre-fabricated Plasterboards : Ready for Installation
Designed for buildings with low heat loads the EcoVolt CeP pre-fabricated panel has many benefits like:
Rapid build construction & super fast installation
Suitable for nZEB building standard, 2019 building regulations Part L
Suitable for Passive House Standard
Solar PV compatible
Low energy input for large surface heating area
Lower labour and material costs
Vertical or Horizontal mounted
When the heating system arrives to the site, already embedded in plasterboard, it is installed just like a plasterboard. Cables are fitted using the EcoVolt "Gripper" system and powered by 24V SELV transformers
Quick and easy to install, EcoVolt CeP saves money on expensive labour and material costs in comparison to other systems. Due to the very low heat demand for the building, the requirement for expensive traditional heating systems are a thing of the past. EcoVolt CeP is "The Future of Heating"
Zone Control
Zone - control your home heating with our award winning and easy to use heating control unit.
Control Remotely
The EcoVolt APP allows the control of each EcoVolt CeP panel through a mobile phone or tablet. Schedule your heating or change the temperature of different zones remotely. The CSD16/2 central touchscreen control panel or EcoVolt Hub is required as the gateway to access the APP.
BSRIA Findings
EcoVolt CeP has been tested to the Irish NZEB standards by Global Testing Institute BRSIA. Testing consisted of placing the EcoVolt CeP into a chamber that can influence weather and air conditions along with building fabric U-Values. The EcoVolt CeP panel used 45% less energy when installed under NZEB standards compared to a building built pre 2011.
Contact us to make an appointment to visit our showrooms where we can demonstrate our products and their key benefits.